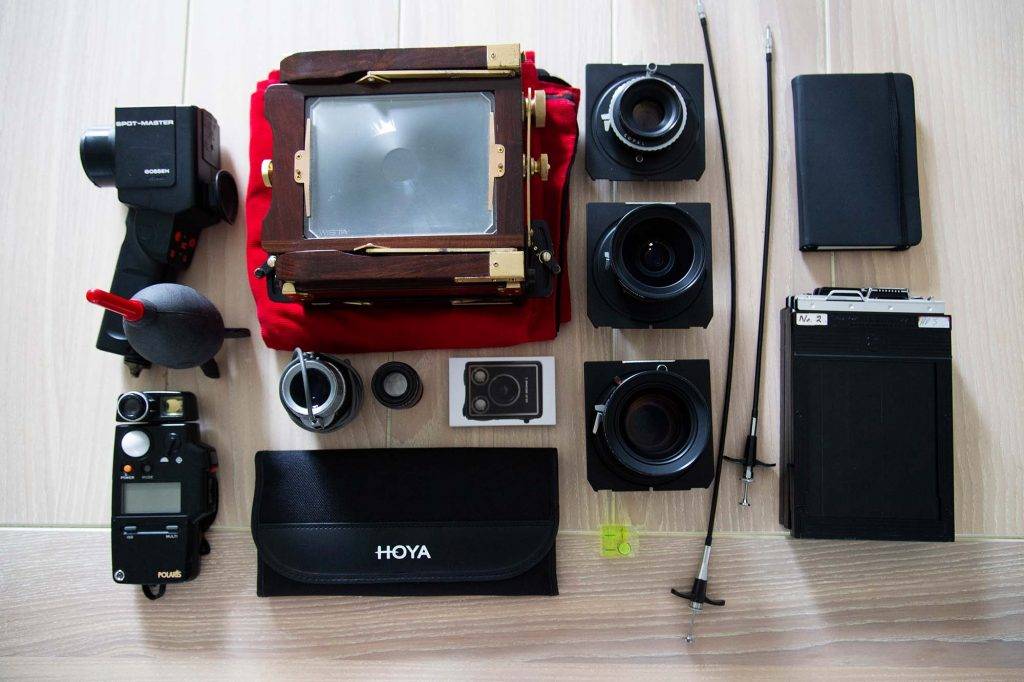 When you are work in a fairly obscure medium like large format photography, building a complete camera system takes time. Some might say it never ends! It is definitely more difficult if you buy everything used and I have had a number of missteps along the way. I bought lenses I just didn't like or got accessories that worked but just added too much weight or inconvenience for the benefits they provided. I wanted to walk around with this system so weight was always a priority.
The Camera Bag: Lowepro Flipside 400aw
For large format photography, I like a camera bag that is big enough for everything you need, but not so big you are always tempted to add a few extras 'just in case'. The Flipside is big enough for my camera, 3 lenses, 5 dark slides and my light meters and accessories. The design is for a DLSR and lenses so it took quite a bit of moving them around to set up the bag for large format. The padding is excellent though and everything feels very well protected. I love the fact the main compartment can't be accessed while the bag is on my back.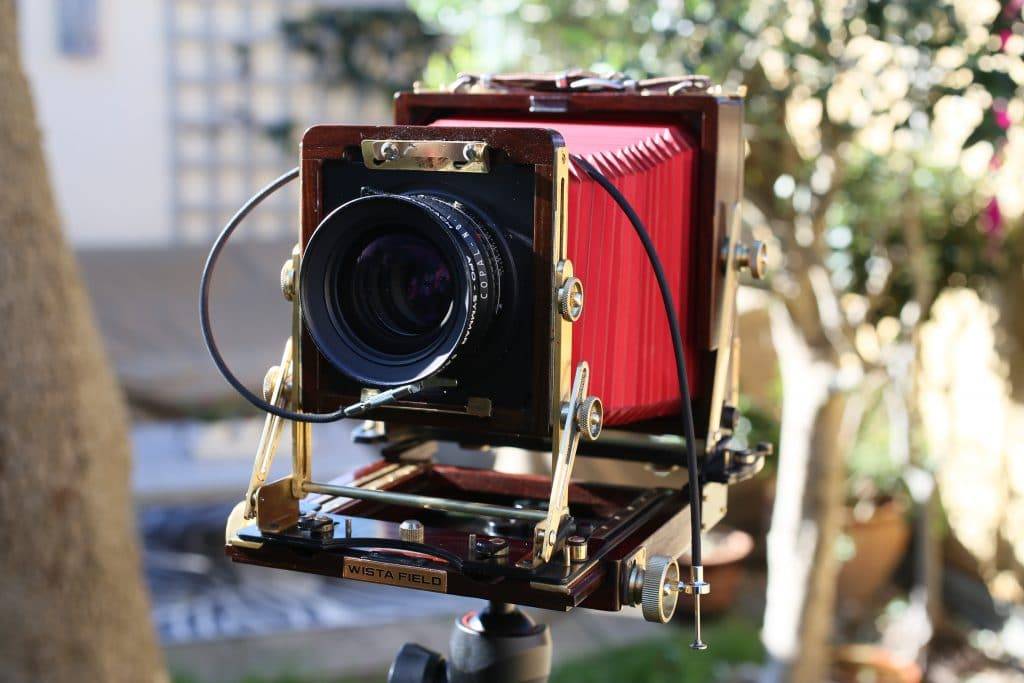 Camera: Wista 45DX
This is my newest addition to my large format photography collection. I have been shooting a monorail for the past few years, but I have been working outside much more, so moved to a smaller, lighter camera. My main work is portraiture and I preferred the precision of a monorail to the portability of a field camera. The need to have something packable and lightweight became my primary concern. The Wista is well made, has enough movements for my purposes and so far has served me well. The movements are a little trickier to use than a monorail, and the brass fittings get extremely cold in bad weather. But I haven't had a situation yet which I haven't been able to deal with.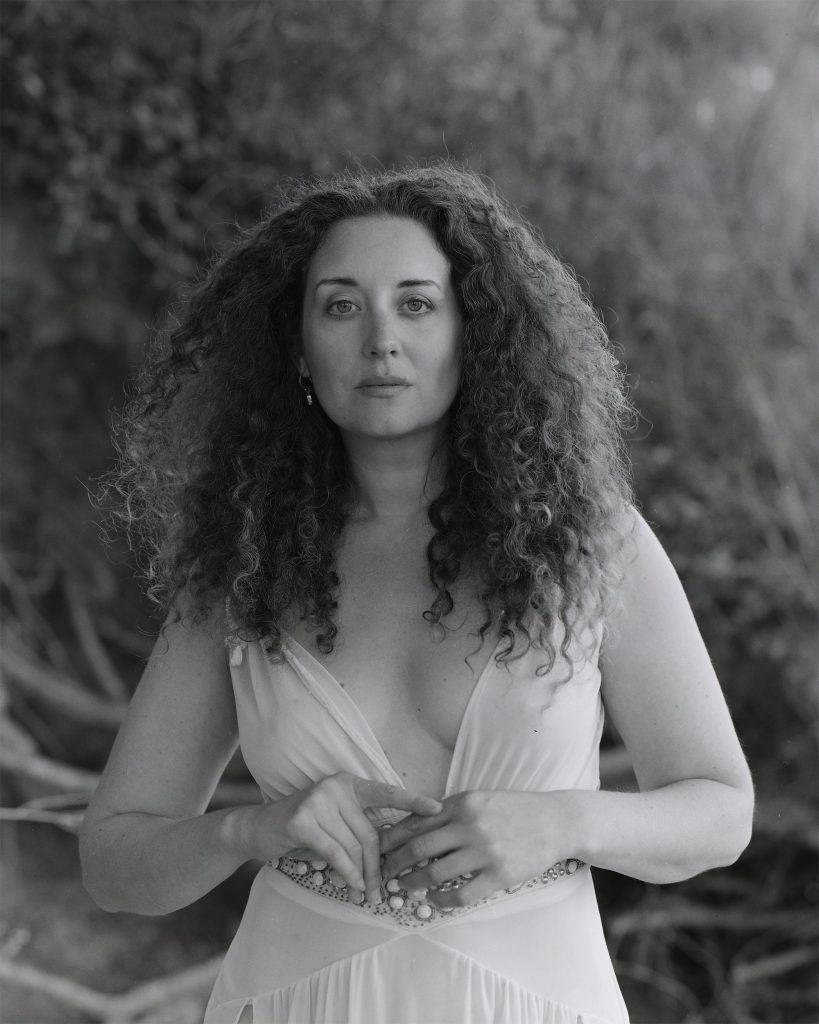 Portrait Lens: Schneider 210mm 5.6 APO Symmar
This is the lens I use the most. It is a flawless optic with a super-sharp 'modern' look that I love. It is quite big and heavy, and I certainly wouldn't want to put anything heavier on the end of a field camera. Its focal length equates to around 70mm in full frame terms so it works well as a portrait lens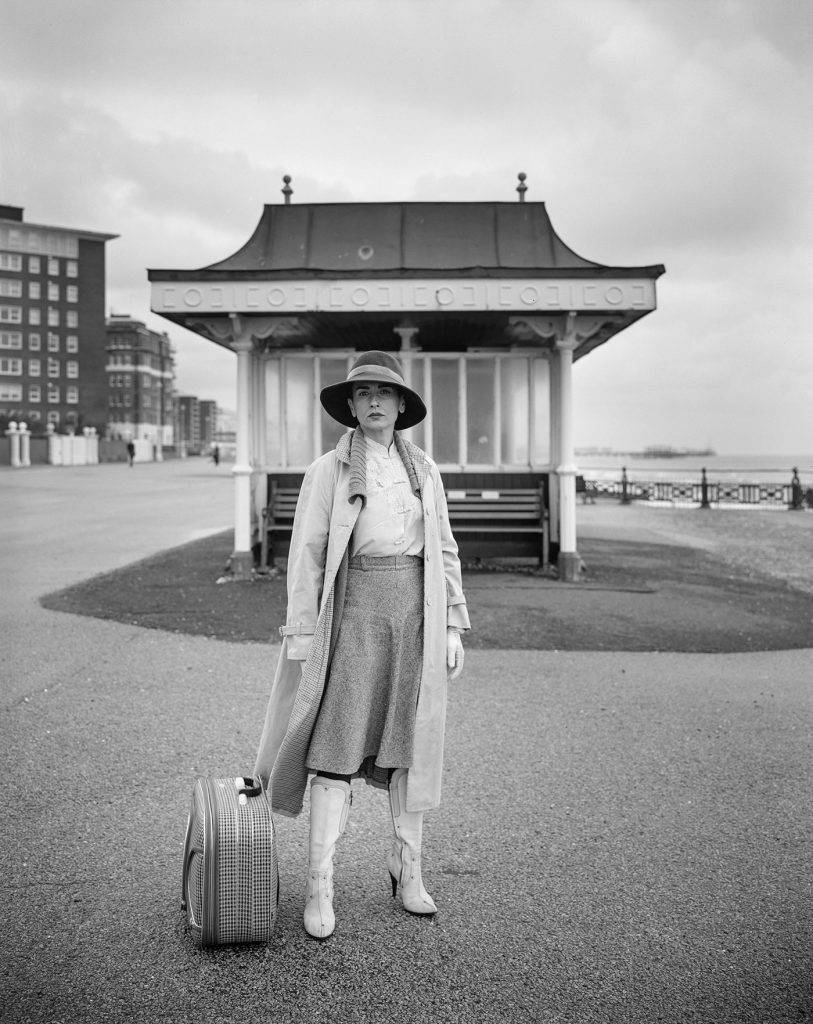 Standard Lens Fujinon 125mm 5.6NW
I bought this lens on a whim but I ended up really liking this focal length. It equates to a 40mm in full frame turns and pairs up well with the 210mm if I want a two lens kit. It is small and light enough to fold up into the body of the Wista to save a bit of space and throws a nice bright image on the ground glass. A very useful general purpose lens.
Schneider 75mm 5.6 Super Angulon
My least used lens but still an excellent performer. Very useful when shooting space is limited, which is when it tends to come out of my bag. However I am making a concerted effort to get better with it and use it creatively too. It is certainly up there with the best lenses I have owned and is bitingly sharp. The only drawback is the image circle is relatively small so movements you can use are modest. That is true of most lenses this wide on 4×5 though.
Gossen Spot Master Spotmeter
A great meter that I picked up very cheaply mainly due to a fortuitous spelling mistake in its ebay listing. Its only drawback is some very idiosyncratic ergonomics. Sometimes I doubt whether a human being designed it! I definitely noticed an improvement in the quality of my negatives since moving to a spot meter.
Essential Accessories for Large Format Photography
Spirit Level
A spirit level is one of my must have items in my large format kit bag. I never shoot a picture without making sure my camera is straight and level first.
Loupe
A good loupe is vital to making sure you focus you image accurately. I carry two, a x7 and a x4.
Film Holders
I have space for 5 or 6 in my main camera bag, which is enough for landscapes. If I am shooting portraits I have another bag that holds 15 holders.
Business Cards/Note pad
If I photograph someone I always give them a business card so they contact me for a copy. Alternatively, I can take their email and write it in my note pad. I think it is vitally important to take notes as you work, as it is so easy forget good ideas and locations if you just try to remember everything. I also write down all my filter factors in there in case I forget them!
Air Blower
Because dust is the enemy…
Cable releases
Nothing fancy, but always carry two in case I drop one or one breaks.
Filters
I have never really been a huge user of filters. Large format photography for me is mainly about portraits. But recently I have started shooting more landscapes and I have started carrying yellow, yellow/green, orange and red filters for black and white, and a polariser for colour. I also have a 10 stop ND as well as various step up rings to fit each of my lenses.
Useful Links
A Beginner's Guide to the Large Format Film Camera
How to load a large format film holder
How to use a large format camera
A Beginner's Guide to Shooting Portraits on 4×5 film
Shooting Large Format Portraits on Location
How I got the Shot – Portrait of Mell
Choosing Film for your Large Format Camera
You can see more of my personal work on my Flickr Account