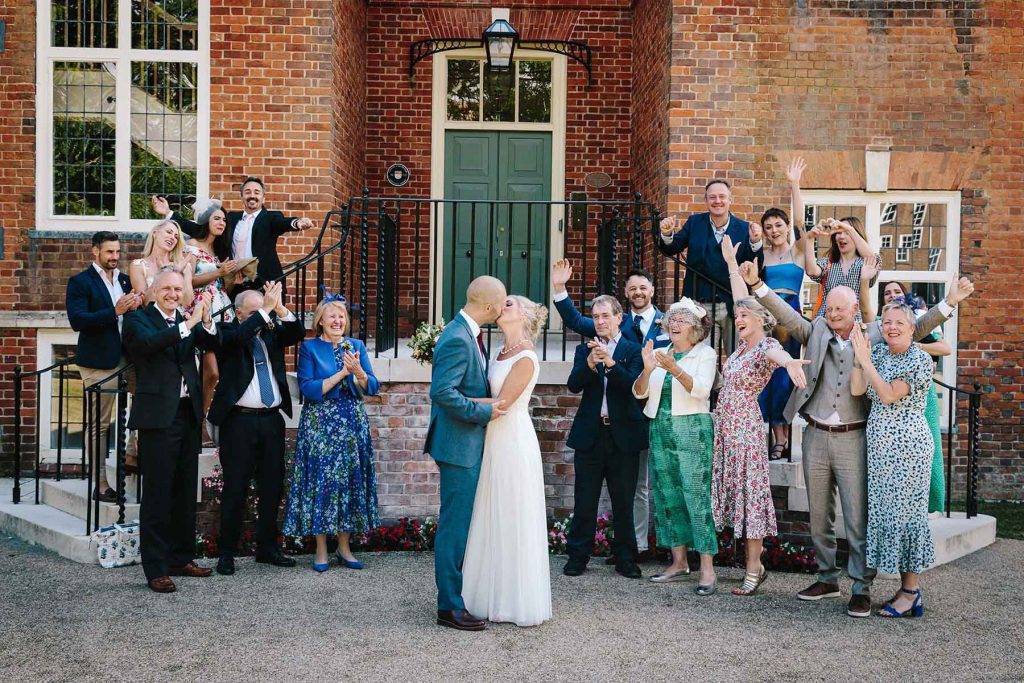 Every wedding is different. More so in this post pandemic world when many couples are opting for smaller or more unique wedding options. So how long should you hire a wedding photographer for?
Normal and Larger Weddings – 70 guests or more
The typical wedding photographer schedule for a barn or hotel venue wedding goes something like this. It may be different in the odd detail but the vast majority of 'normal' weddings will follow this approximate schedule.
| | |
| --- | --- |
| 12.30pm | Bridal Prep |
| 1pm | Groom/ Guests Arrive |
| 2pm | Ceremony |
| 2.30pm – 4pm | Confetti Groups Couples |
| 4pm | Wedding Breakfast |
| 5.30- 6.30 | Speeches |
| 7.30pm | Cake Cutting/ Possible golden hour couple photos |
| 8.00pm | First Dance |
From this schedule you can see that an eight to ten hour package will cover all the main events of a wedding like this with a little bit of leeway. There is also plenty of time to capture candid photos of most of the guests.
A bridal prep to first dance wedding package is usually the best choice for bigger weddings simply because with a larger number of guests you need the extra time to cover the wedding properly and to get enough candid photos of the guests. It also means that if you choose a wedding album it can tell the full story of your wedding day.
When is 4 hours Enough?
What if your budget is only enough for you to hire a wedding photographer for 4 hours? Generally speaking couples who approach me for half day packages usually have smaller weddings with fewer guests anyway. This often means there are fewer formal elements to the wedding. For example, they may have booked a nice restaurant for the wedding breakfast but may not have a band or disco. Weddings like this typically have 20 to 40 guests. In this case working until the wedding breakfast is usually fine. If you invite fewer guests it does reduce the amount of work to cover the wedding effectively. Personally I like to keep busy on a wedding day. So I don't like to oversell hours if there won't be enough events (or people) to photograph. I am always happy to recommend a shorter package if that is the best fit.
When should you hire a wedding photographer for 2 Hours?
If you want a smaller wedding of 10 or 20 guests, two hours should be plenty of time to get a lovely memento of your day. A wedding this size will only have 4-5 group photos, a couples shoot and of course the ceremony. As the number of guests goes down I always feel that as a photographer you are more and more noticeable. So it's important not just to get all the photos clients want but also to know when it's time to go! Again I think if someone is paying me a lot of money to cover their wedding there has to be enough different photo opportunities to warrant the cost. I never push to extend packages beyond what is needed.